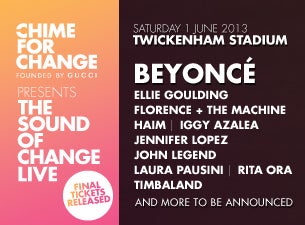 I had the most incredible weekend. On Saturday I was lucky enough to have tickets to The Sound of Change Concert at Twickenham Stadium. The concert was run by Gucci, with a focus on changing the lives of women around the world and was broadcast live to one billion people. The performances were incredible and the atmosphere throughout the crowd unexplainable, and the stories about individual women inspiring.
I was overwhelmed that I was so close to some of the most inspirational celebrity women. Acts included Beyonce, Jennifer Lopez, Mary J Blige, John Legend, Jessie J and many more. I got a few good photographs, however in the middle of the concert my good camera stopped working! So the majority of my images became grainy iphone pictures! But I will still share some of them with you.
Jessie J
Blake Lively
Rita Ora Florence and the Machine
James Franco
Iggy Azalea
Madonna John Legend
Ryan Reynolds
Jennifer Lopez
JLo & Mary J Blige Timbaland
Ellie Goulding
Beyonce
I was very upset that I couldn't get better photos with my favourite camera! But if you want to see some of the performance it's worth it. Jennifer Lopez was amazing, and as usually Beyonce blew the whole crowd away! Videos are attached below!
Miss B xxx